Hear From the Tribe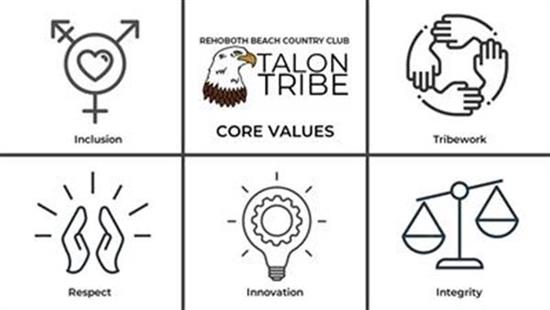 Talon Tribe Core Values
These 5 Core Values drive the Talon Tribe now and for the future.
Inclusion: We are a friendly and fun community that celebrates our differences and similarities, cultures and backgrounds. We are committed to providing equal access for all staff and honoring the balance between work and home.
Respect: We genuinely care about and are kind to one another, the membership and the community at large. We actively listen to and cooperate with the needs of all departments and staff.
Integrity: We are proud of what we do each day at RBCC. We work to the highest degree of professionalism, maintain a safe work environment, and always stay honest.
Innovation: We strive for continuous improvement and new ideas. We question everything and invest in learning and development because we know that each position here has the potential to become a career.
Tribework: We collaborate with one another and strive to operate in unity. We know that our sum is greater than our parts and we are all valuable to the Talon Tribe's success. We take initiative and put in extra effort to ensure that we are successful together.